3. 1. 2020
Funeral Notice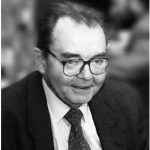 We regret to announce that on December 31, 2019, Mr Assoc. MUDr. Václav Jirásek.
Václav Jirásek graduated from Charles University in 1953 and after a short time at the Internal Department in Kutná Hora, he joined the First Internal Clinic of the University Hospital in Prague in 1955. He remained faithful to our hospital and the First Faculty of Medicine throughout his professional life; spent almost 50 years at the First Internal Clinic, then until the last time at the IV. internal clinic.
The last farewell to the associate professor takes place on Friday, January 10, 2020 at 12:00 in the Strašnice Crematorium,
Praha 10.
Funeral notice doc. MUDr. Václav Jirásek, CSc.