Vaccination center
VFN VACCINATION CENTER
Center address:
Faculty Polyclinic - Karlovo náměstí 32, Prague 2, 3rd floor, building C1 - A střed
ATTENTION. The vaccination center is not located on the main campus of the General University Hospital!
Center opening hours:
From Monday 27/03/2023 ONLY Mondays from 7:30 a.m. to 3:30 p.m. (last application at 3:00 p.m.) hours.
Tel. : +420 224 966 320
WE EXPECT WITHOUT ORDERING:
Covid-19 / Comirnaty vaccine from BioNTech/Pfizer.
Covid-19/modified vaccine Comirnaty Original/Omicron BA.4-5. from the company BionTech/Pfizer - we vaccinate people over 16 years of age with a booster dose at least 3 months after the last dose of vaccination against the Covid-19 disease.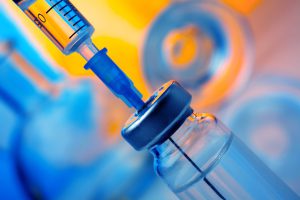 More information:
In the building of the Faculty Polyclinic of the General Hospital, orient yourself according to the navigation system.
Follow the directional arrows that will take you to the vaccination center.
Prepare an insurance card, ID card, if you are a chronic patient, and a medical report.
Check in at the reception where our staff will discuss the vaccination process with you.
Wait for the call to enter the surgery.
After vaccination, sit in the waiting room and stay still for at least 30 minutes.
Report any health problems immediately to the vaccination center staff.
In case of health problems or complications, contact your general practitioner or emergency medical service and inform them about the performed vaccination.
Please pay special attention to the following contraindications:
acute illness,
severe allergies to drugs, food, insects, etc.,
anticoagulant and immunosuppressive therapy,
other vaccinations in the previous 14 days,
positive SARS-CoV2 (antigen, PCR) in the last 14 days,
Pregnant women have an increased risk of severe Covid-19 disease over non-pregnant ones of the same age. Covid-19 may also increase the risk of preterm birth.
Vaccination is now considered safe and effective at any stage of pregnancy, there is no evidence that vaccination should be delayed beyond the first 12 weeks of pregnancy.
For breastfeeding women, the use of mRNA vaccines is recommended. After vaccination of a breast-feeding woman, no action is required in case of planned vaccinations of the breast-fed child.
For more information on vaccinating pregnant and breastfeeding women against Covid-19, see HERE.