Year of VFN prevention
Do you know which preventive examinations you are entitled to? Fill out our simple questionnaire and test whether you are doing everything that today's medicine has to offer to prevent cancer.
After filling in your answers, the program will generate recommendations for preventive examinations that you should undergo based on your risk factors. The questionnaire is anonymous, you do not fill in your name, only your gender and age.
Click on the questionnaire and test yourself in a minute!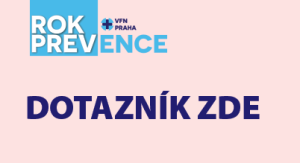 Prevention is the easiest way to take care of your own health. Early detection of problems can prevent a number of later health complications and save or prolong life. Therefore, our hospital has prepared a preventive campaign for the whole year, through which we will help you to navigate preventive examinations. So follow us.
Don't wait for the right moment. Go for prevention before it's too late.
Do you know that prevention starts with the practitioner? That you are entitled to a free comprehensive preventive check-up every 2 years from the age of 18? And that even if you don't have any health problems, you shouldn't postpone them, because only diseases detected in the initial stage can be treated well? And what awaits you during a general preventive examination?

Complete physical examination
Measurement of blood pressure and body mass index (BMI)
Orientation examination of sight and hearing
Examination of blood sugar and cholesterol concentration
Examination of kidney, lung and heart function (ECG)
Neurological examination
Urine examination
Skin examination
Vaccination check
Completion of the patient's history and risk assessment
Recommendations for screening examinations

A preventive examination can also help detect diabetes, high blood pressure, fat metabolism disorders, e.g. high cholesterol, diseases of the circulatory system, diseases of the central nervous system, kidney damage, sensory impairment (loss of vision, hearing), cancer of the breast, prostate, testicles, colon and rectal or skin cancer. Do not forget that if you do not go for preventive examinations and screening examinations, you risk that a possible oncological disease will not be detected in time. And don't forget to make an appointment with the practitioner in advance!

Do you know that the kidneys do not hurt, which is why many patients are completely unaware of their disease? Do you know that every tenth Czech has diseased kidneys? And do you know that you are entitled to their preventive examination? For example, as part of a comprehensive preventive check-up with a practitioner once every two years. Patients suffering from diabetes, high blood pressure or cardiovascular disorders are also entitled to a free preventive kidney examination every four years from the age of 50.

Warning signs of kidney disease include, for example, high blood pressure, swelling of the lower limbs, great fatigue, weight loss, or a change in the color and character of urine. Individuals who also have other associated diseases such as diabetes, hypertension, cardiovascular diseases or some genetically determined diseases (e.g. polycystic kidney disease) suffer from kidney disease. Risk factors for the development of kidney disease include smoking, low birth weight or obesity in adulthood and some developmental defects of the urinary system.

Chronic kidney disease leads to loss of kidney function over a period of months to years and in most cases is progressive in nature. In order to prevent terminal kidney failure, including dialysis, and to slow down the progression, it is necessary to detect the disease in time, correctly diagnose it, and then treat it adequately.

Preventive examination of kidney disease is painless and takes only a few minutes. Unlike treatment. For the examination, a drop of blood from the finger, a urine sample, a pressure measurement and an evaluation of the general condition, including family history, are sufficient. An ultrasound will also help detect possible diseases, including tumors.