Year of VFN prevention
Do you know which preventive examinations you are entitled to? Fill out our simple questionnaire and test whether you are doing everything that today's medicine has to offer to prevent cancer.
After filling in your answers, the program will generate recommendations for preventive examinations that you should undergo based on your risk factors. The questionnaire is anonymous, you do not fill in your name, only your gender and age.
Click on the questionnaire and test yourself in a minute!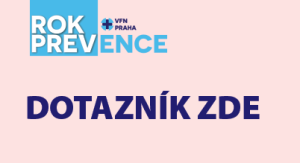 Prevention is the easiest way to take care of your own health. Early detection of problems can prevent a number of later health complications and save or prolong life. Therefore, our hospital has prepared a preventive campaign for the whole year, through which we will help you to navigate preventive examinations. So follow us.
Don't wait for the right moment. Go for prevention before it's too late.
Do you know that prevention starts with the practitioner? That you are entitled to a free comprehensive preventive check-up every 2 years from the age of 18? And that even if you don't have any health problems, you shouldn't postpone them, because only diseases detected in the initial stage can be treated well? And what awaits you during a general preventive examination?

Complete physical examination
Measurement of blood pressure and body mass index (BMI)
Orientation examination of sight and hearing
Examination of blood sugar and cholesterol concentration
Examination of kidney, lung and heart function (ECG)
Neurological examination
Urine examination
Skin examination
Vaccination check
Completion of the patient's history and risk assessment
Recommendations for screening examinations

A preventive examination can also help detect diabetes, high blood pressure, fat metabolism disorders, e.g. high cholesterol, diseases of the circulatory system, diseases of the central nervous system, kidney damage, sensory impairment (loss of vision, hearing), cancer of the breast, prostate, testicles, colon and rectal or skin cancer. Do not forget that if you do not go for preventive examinations and screening examinations, you risk that a possible oncological disease will not be detected in time. And don't forget to make an appointment with the practitioner in advance!

Do you know that the kidneys do not hurt, which is why many patients are completely unaware of their disease? Do you know that every tenth Czech has diseased kidneys? And do you know that you are entitled to their preventive examination? For example, as part of a comprehensive preventive check-up with a practitioner once every two years. Patients suffering from diabetes, high blood pressure or cardiovascular disorders are also entitled to a free preventive kidney examination every four years from the age of 50.

Warning signs of kidney disease include, for example, high blood pressure, swelling of the lower limbs, great fatigue, weight loss, or a change in the color and character of urine. Individuals who also have other associated diseases such as diabetes, hypertension, cardiovascular diseases or some genetically determined diseases (e.g. polycystic kidney disease) suffer from kidney disease. Risk factors for the development of kidney disease include smoking, low birth weight or obesity in adulthood and some developmental defects of the urinary system.

Chronic kidney disease leads to loss of kidney function over a period of months to years and in most cases is progressive in nature. In order to prevent terminal kidney failure, including dialysis, and to slow down the progression, it is necessary to detect the disease in time, correctly diagnose it, and then treat it adequately.

Preventive examination of kidney disease is painless and takes only a few minutes. Unlike treatment. For the examination, a drop of blood from the finger, a urine sample, a pressure measurement and an evaluation of the general condition, including family history, are sufficient. An ultrasound will also help detect possible diseases, including tumors.

Colon cancer is primarily a toll for an unhealthy lifestyle and is the 3rd most common type of cancer in the Czech Republic for both men and women. The disease is detected in up to 8,500 people in our country every year, and in more than a third it is caught late.

Did you know that the Czech Republic is at the top of the list of colon and rectal cancer incidence in the world? Did you know that colon and rectal cancer is 90 percent curable if detected at an early stage? And do you know that you are entitled to a preventive examination? Health insurance companies pay for general screening, but only 35 percent of people over 50 years of age, for whom it is intended, take part in it.

The key to change is a healthy lifestyle, prevention and early examination!

Over 90 percent of cases occur in people over 50 years of age, colon cancer is more common in women, and rectal cancer in men. Intestinal polyps, growths, and family history of this type of cancer increase the risk. Smokers have more than twice the risk of the disease than non-smokers. Obesity increases the risk more in men. A lot of fat and red meat in the diet, as well as a lack of calcium, vitamin E and D, selenium and magnesium in the diet, have an adverse effect. Patients with inflammatory bowel disease also have a higher risk, for example in Crohn's disease it is twice as high.

What do the experts advise?

Recognize your level of risk and heal your lifestyle. The key is to eat healthily, i.e. cut back on fat and red meat, eat more vegetables, fruit and fiber. It is important not to smoke, drink alcohol only in moderation and move more. It is sport that reduces the risk by up to 60 percent.

HOW DOES COLON CANCER SCREENING WORK?

It is done using a test occult (hidden) stool bleeding (so-called TOKS) or colonoscopy (examination of the rectum and colon with a camera device). Examination colon and rectum its free!

- up to 50 years: TOKS or colonoscopy in case of problems

- 50-54 years: 1x a year TOKS or 1x every 10 years colonoscopy

- over 55 years: 1x every 2 years TOKS or 1x every 10 years colonoscopy

TOKS - examination of the large intestine (from 50 years)

How often? 1x per year

It will hurt? It won't be

How long it takes? 5 minutes

You do not need an application form for the examination. You can perform the test yourself at home and it will be evaluated by your general practitioner. The test consists of taking a sample from several places in the stool. You choose the test together with the doctor and proceed according to the package leaflet. You take a stool sample with a stick into the enclosed test tube, screw it up and take it to your general practitioner, who will also inform you of the result. You can take the test at any time, there is no need to prepare in any way. Women do not take the test 3 days before and 3 days after menstruation.

COLOSCOPY - examination of the large intestine and rectum with a device with a camera

How often? From the age of 50 as part of a screening once every 10 years or on a doctor's recommendation

Will you need an application form? Yes, your general practitioner will issue it

How long it takes? 30 minutes

It will hurt? At each examination, we administer painkillers. If you are concerned and are more sensitive to the examination, the examination can be performed under so-called analgosedation, where you will not feel the pain at all. But you are not allowed to drive a car that day and you must be accompanied!

How does the examination take place?

The basis of a problem-free colonoscopy examination is quality preparation at home. Our leaflet with pre-examination instructions will help you prepare properly. Do not neglect the preparation, otherwise there is a risk that you will have to undergo the examination again, so that the entire colon can really be examined. The medical personnel on site will explain the procedure to you. The doctor examines the entire intestine with an endoscope. If he does not see an area, he will take a sample from it for histological examination. After the examination, in case of administration of sedatives, you may not drive, you may return to work only after 12 hours, and you must arrange for an escort to pick you up and take you home after the examination. Before leaving the workplace, you will receive a message for the general practitioner.

You can make an appointment for a colonoscopy at the VFN Gastroenterology Center by calling 224 966 495.

Skin cancer is currently one of the most common cancers. Up to 160,000 new cases appear annually in the world. The most common skin tumor is basal cell carcinoma, thousands of which are discovered by doctors in the Czech Republic alone every year. It manifests itself as an ulcer on the face, it does not metastasize, and if doctors detect it in time, the patient will recover. Melanoma is less frequent (over 3,000 new cases in the Czech Republic per year), but all the more dangerous. This malignant tumor arises from the pigment-forming cells of the skin, it is very aggressive and if it is not treated early, the prognosis is not very good and it can even end fatally.

The basic warning signs that should lead you to see a doctor are:

The appearance of a new, brown, black or red-colored deposit that was not on the skin before and is constantly growing, increasing in size, changing its shape and surface, as if it has ragged edges.
Changes to the existing birthmark – size, shape, but also other differences from other birthmarks you have on your skin.
Leg ulcers that do not heal for a long time, growing festering ulcers on the soles of the feet, kicked "soaking" toe.

Who is at risk and what is risky for the skin

The risk of developing skin tumors is significantly increased by ultraviolet radiation (UVA and UVB), i.e. sunbathing without thorough protection, ionizing radiation, chemical substances (for example, secreted from cladding and insulation in the construction of houses and cottages), some viruses, human skin phototype (the most at risk are people with light skin and a large number of birthmarks), age (in men most often over 50 and in women aged 10 to 29) and weakened immunity due to oncological treatment.

Did you know that some medications also sensitize the skin to sunlight, such as high blood pressure? Consult a dermatologist about the medications you are taking and increased skin protection from sunlight. The development of light treatment (phototherapy) and the popularity of solariums had a negative effect on the incidence of melanomas in the 1930s.

What to do for healthy skin

The skin has a perfect memory, since childhood it counts all the burns and damages. Therefore, think about consistent and thorough protection and care for the skin of the entire body.

Use sunscreens with a high protection factor and UVA and UVB filters (only buy products with both filters at the same time!).
Apply protective creams at least half an hour before tanning.
Do the same in winter in the mountains, where the sunlight is as aggressive as at the sea.
Treat neglected areas such as earlobes, earlobes, insteps, hairline, toes...
Do not expose your body to sunlight between 11am and 3pm
Check your freckles, birthmarks and other pigmented spots carefully regularly – and with your partner. Did you know that men most often have problems with their backs, while women have problems with their legs and arms?
Do not expose children to the sun at all until one year of age, later protect them not only with creams, but also with clothing and headgear.



In case of any suspicion, visit a general practitioner or a dermatologist immediately! You are entitled to preventive regular check-ups from your health insurance, some health insurance companies contribute to more frequent examinations with a digital dermatoscope. You can also take advantage of awareness and educational events for the public, where birthmarks are routinely checked.

It is absolutely essential not to look at the date of the next visit and to come immediately, time plays a decisive role in skin cancer. In the VFN, there is a melanoma consultation at the Dermatovenerology Clinic, where you do not need to make an appointment. Our doctors practice in four outpatient clinics and it is worth waiting for the examination! In the case of a serious diagnosis, they are able to operate on the patient within a few days and continue to treat them. This increases his chances.

Do you know that smoking causes 20% of all types of cancer and that smokers also die from cardiovascular diseases or COPD? That it damages the immune and endocrine systems, reproductive organs, causes diseases of the digestive tract, increases the frequency of allergies, damages eyesight, supports inflammatory processes and increases oxidative stress? Did you know that smoking also increases the risk of developing a number of neuropsychiatric diseases - depressive and anxiety disorders, dementia or even schizophrenia?
Quitting smoking isn't easy, but with the help of experts, success rates skyrocket. Tobacco addiction is an F17 diagnosed disease and there is an effective treatment for it covered by health insurance.

Center for the treatment of tobacco addiction in VFN

Those interested in treatment can contact the Center for the Treatment of Tobacco Addiction at the General University Hospital. The center can be found in the building of the Faculty Polyclinic on Karlov náměstí (4th floor). Doctors here provide specialized care and an advanced individual program. He will evaluate the degree of nicotine dependence, draw up an individual treatment plan, advise on how to overcome withdrawal symptoms and choose the appropriate pharmacological treatment, which is supported by selected health insurance companies. Those interested can make an appointment in person at the Faculty Polyclinic building or by calling 224 966 608.

What awaits you?

Individual withdrawal plan.
Supporting motivation to quit smoking.
Evaluation of the degree of dependence on cigarettes.
Recommendations to change smoking habits.
Information about addiction treatment options.
Overcoming withdrawal symptoms.
Crisis management.

Using professional help increases the success rate many times over! Try it.

Did you know that cervical cancer is the only malignant disease that can be vaccinated against and effectively prevented in the vast majority of cases? In the Czech Republic, we have at our disposal all types of prevention of this cancer, and despite the fact that its incidence is decreasing, 300 women still die needlessly from it every year!

Cervical cancer is a unique disease on several levels:

The known causative agent of cancer is the human papillomavirus or HPV.
There are effective vaccines against the virus.
As part of primary prevention, we can vaccinate against the most fundamental types of this virus and prevent the development of the disease.
We do not have such an option with any other gynecological tumor.
We also know the so-called pre-cancerous stages of cervical cancer, and experts are able to effectively diagnose them as part of preventive gynecological checks and testing.
After discovering the pre-cancerous stage and depending on the level of change, doctors monitor the patient or suggest a minor surgical intervention, which will relieve the patient in time of the risk of developing cervical cancer.

Prevention is available for all age groups!

1. For girls and boys, FREE VACCINATION between 13 and 14 years of age, before they start having sex, is ideal and covered by insurance. From January 2024, it will also be paid from the age of 11!
Vaccination coverage should be 80% (currently 60% of girls and 30% of boys are vaccinated).

2. REGULAR CHECK-UPS with a gynecologist are essential for both girls and women.

3. A repeated cytological smear from the suppository (once a year) is available for all women, which will be provided by a gynecologist during regular check-ups.

4. HPV DNA TESTING is suitable for women over 30 years of age, which provides essential information about the risk of developing cancer in the future. The HPV DNA test is currently covered by the insurance company as part of preventive screening for women aged 35 and 45. The test can be requested at any time, but the woman pays for it herself.
Why HPV tests? These are highly sensitive tests that detect the risk of cancer with a 30% probability. If the test is negative, the test offers a huge advantage in so-called negative prediction, which is long-term. If a woman over the age of 30 tests negative for papillomavirus, there is almost zero chance of developing cervical cancer in the next 2, 3, 5, and possibly up to 10 years.

5. A new feature is the possibility of SELF-TEST for HPV as part of an examination with a general practitioner!
In the age group of 50+, only 30% of women go for preventive examinations to a gynecologist, while the incidence of cervical cancer is highest around the age of 60. The offer of a self-examination kit from a general practitioner, who sends the test to the laboratory and subsequently informs the patient of the test result himself, can be a solution.