28. 8. 2020
Traditional Hospital Fair 14 - 17 September 2020

TRADITIONAL JARMARK IS HELD
For VFN employees and the public
Do you have clothes at home that you no longer wear, but you believe it might interest someone else? Are you looking for an original gift, fashion accessory, inspiration? Take part in the traditional JARMARK, organized by our hospital. Used clothes, shoes and accessories that you bring to the stock market will help good things.
When and where? Bring the selected items you want to offer on Monday 14 September between 7.30 am and 3.00 pm or on Tuesday 15 September between 7.30 am and 12.00 pm to the reading room of the Faculty Polyclinic on Charles Square 32. There is volunteers prepare for the exchange itself for the public.
The fair will open for all interested parties on Tuesday 15 September at 12 noon. The event lasts until Thursday, September 17. Proceeds will be used exclusively for the activities of the Center for Voluntary Activities. For canis therapy or for the purchase of art and other aids for popular creative workshops.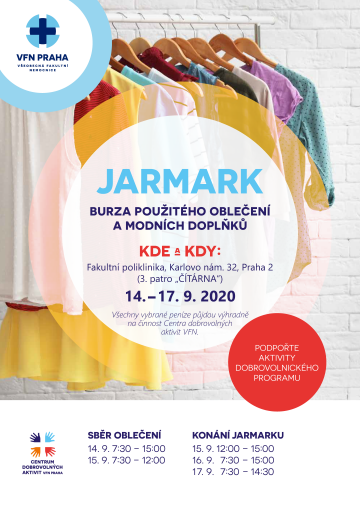 25. 1. 2023

In the theoretical part of the workshop, doctors will get to know the "up-to-date" changes in international recommendations in the care of vascular accesses, with methods of value ...

12. 1. 2023

The bachelor's degree program in General Nursing enables graduates to work in all types of healthcare facilities, including highly specialized ...

All news