15. 9. 2023
Protect your head in the crowd

On Monday, September 18, 2023, from 9:00 a.m. to 1:00 p.m., the patient organization CEREBRUM, in cooperation with the VFN, is organizing a presentation of the Keep Your Head in the Crowd project in the park at Josefa. The project aims to address the risks of brain damage and the prevention of risky behavior in the case of underestimating safety rules during sports, work or on the road.
Visitors can look forward to:
A test of a sports helmet, the opportunity to learn how to properly adjust and fasten it.
For advice on how to choose a quality helmet that will ensure maximum protection and comfort as well as other safety features.
To watch a video showing how a watermelon lands after falling to the ground with and without a helmet. You'll be surprised how big a difference it makes!
To an interesting questionnaire, thanks to which you will find out how you are doing with your knowledge of basic health literacy and the issue of head injuries - you will learn what you could improve or change.
On the possibility of trying to fold an anatomical model of the brain into the correct shape.
And last but not least, learn more information about prevention, help and care after head injuries and other brain diseases.
The event is suitable for all ages.
The project is implemented with the financial support of the Ministry of Health of the Czech Republic.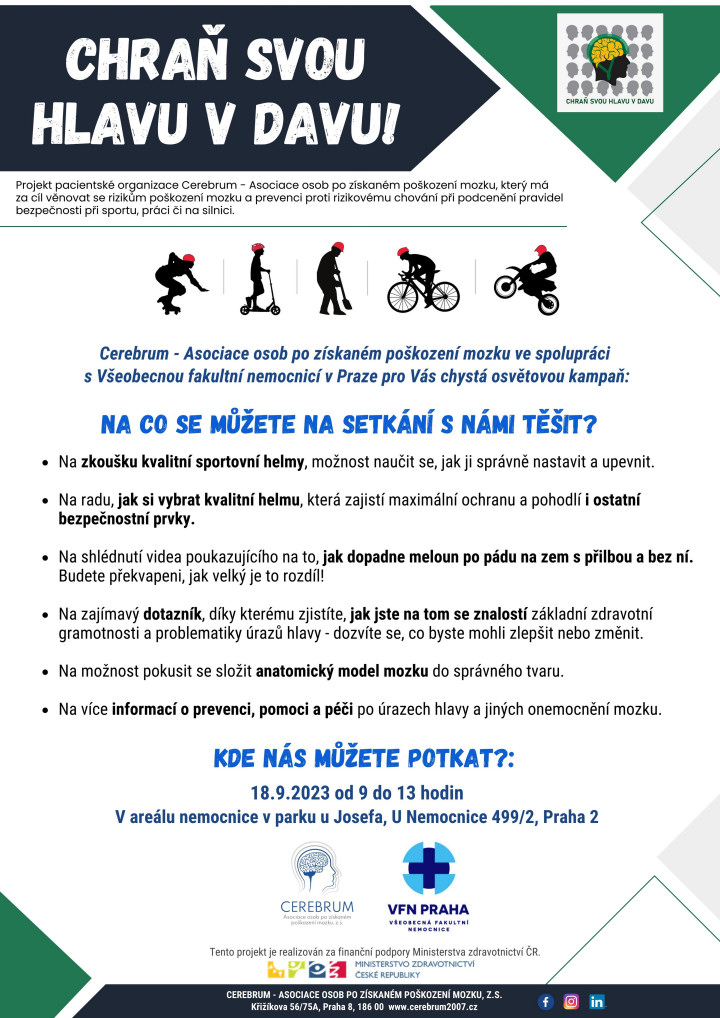 13. 11. 2023

During the entire month of November, the 17th year of the Spartan Blood charity project will take place in the VFN and in other places. Hockey fans...

12. 11. 2023

Those interested can still sign up for the one-day FOR NURSES course on December 12, 2023. Intravenous accesses have become a necessary standard of i ...

All news