3. 9. 2019
Hrusický dobroběh

The municipality of Hrusice will organize the first year of Hrusice's Adventures. This year, she decided to support the nonprofit patient organization Again to Life, bringing together patients who survived cardiac arrest due to timely and correct first aid.
Come and play sports while promoting a good cause! You will help the Association Again to Life, zs with care for patients who have experienced very critical diseases and whose return to life is in most cases quite difficult.
The accompanying program will be thematic: PrPom will teach you how to provide first aid and save human life in practice.
Give the movement a new dimension and run with us on September 21, 2019! Registration form and run rules: http://www.znovudozivota.cz/hrusicky-dobrobeh-2019/
We cordially invite you and thank you for helping!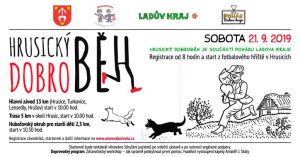 26. 10. 2021

Are you interested in what techniques occupational therapists use in their work and to whom is their help intended? Then you have a unique opportunity to learn about their work ...

25. 10. 2021

On the occasion of World Psoriasis Day (October 29), an awareness campaign called Polka Dot Day is taking place this year as well. It is backed by the non-profit organization Reveni ...

All news