10. 6. 2019
Blesk surgery already this Wednesday 12.6.2019

Come and have a free preventive examination with our experts on Wednesday, 12 June 2019 from 12:00 to 18:00 at Karlovo náměstí.
WHAT CAN YOU TAKE TO DO?
Examination of moles
Eye Examination
Lung examination
Pressure testing
Counseling Center for Healthy Lifestyle
Counseling center for healthy movement
Mental Health Counseling Center
Proper hand hygiene
Smoking Cessation Counseling
Advice on the use of medicines
In addition: entertainment, raffle, children's zone.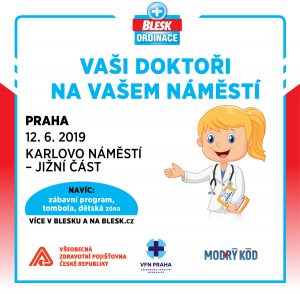 4. 8. 2022

VFN offers residency positions in paediatrics, pulmonology and intensive care to graduates of universities and colleges. Attention! Selection procedures start already in the week of 8. 8. ...

3. 8. 2022

A unique management and leadership course for doctors is organized by VFN in Prague. It is intended for doctors of all specialties. What does it offer graduates? You will acquire...

All news