5. 8. 2021
We only vaccinate from Monday to Thursday!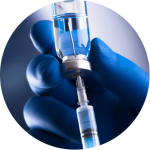 In the vaccination center in the Faculty Polyclinic on Charles Square, we always vaccinate those interested from Monday to Thursday. We are closed on Fridays, Saturdays and Sundays. We still accept those interested in vaccinations without prior registration, from 12 to 4 p.m. The morning hours remain reserved for registered applicants.
In children from 12 to 15 years of age, the presence of a legal representative is necessary when administering the vaccination and the date of the second dose is currently 21 days.